A Cabin in the Woods, Pigeon Forge, TN 1-800-962-2246 Call 1-800-962-2246 to reserve your cabin in the woods near the Great Smoky Mountain National Park and Gatlinburg, TN.

Our 30 acre river bluff park offers the nature enthusiast a trail to the river, about a mile down to one of the best swimming holes and trout holes in the Smokies! Or just relax and know wilderness is all around you! Be here now!
Testimonials:"Great honeymoon! Enjoyed sleeping til noon or past, breakfasts outside, the hot tub at nights, the dishwasher at all times...with no doubts somebody with a lot of taste designed this cabin. We look forward to coming back soon." Brian and Lina, Indiana."Celebrated our 1st anniversary, had a wonderful time..we loved the heart-shaped jacuzzi." "The cabin itself is very special from the jacuzzi, hot tub, king-size bed to just the way it was laid out--it is perfect for two people wanting to spend quality time together." Brian and Patricia, VA. By the way, the hot tub is just outside the French door. The wrap around deck makes you feel like you are in a treehouse.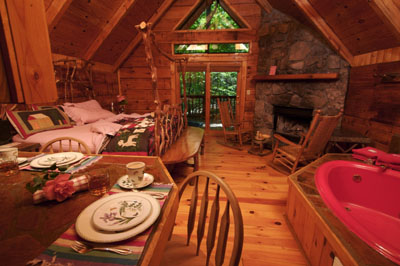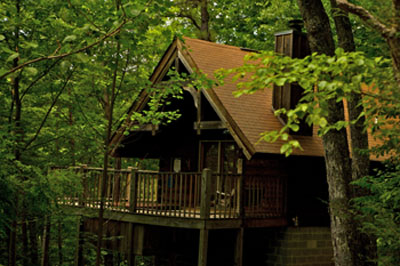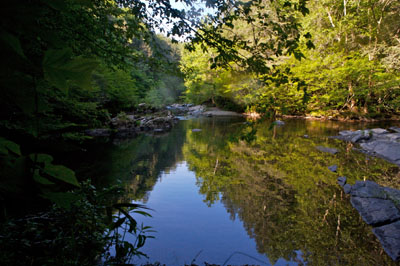 Your vacation cabin near Gatlinburg, Tennessee, and the Great Smoky Mountains is nestled on a bluff over the Little Pigeon River. Our cluster of honeymoon cabins is on our own private road, tucked away in the heart of nature, yet just a few miles from Dollywood, Pigeon Forge, and Gatlinburg, TN. Massage services and gourmet meals available by prior arrangement.
The adventure walk to the river passes "Singing Rock", a convoluted cliff face that reflects the sound from the river back to the trail. It sounds like honey bees buzzing. There are only 2 locations on the river where the river bends 180 degrees and you can see up the river and down the river from the same spot. Bring a hammock to the river and enjoy a picnic. It is a strenuous hike but worth it!